Best Apps for First-Time Investors
First-time investors have greater access to information about the stock market than ever before thanks to the proliferation of personal finance apps. Although investing can seem overwhelming the first time around, modern technology makes it easier to find and make smart investments. The best apps offer a combination of investment research, data, low cost, financial help, user-friendly interfaces and ultimately helps you learn how to invest money.
Best Investment Apps for Beginners
There are a number of great investing apps available, but some are better suited for beginners than others. Here are the best apps for investing if you're just getting started: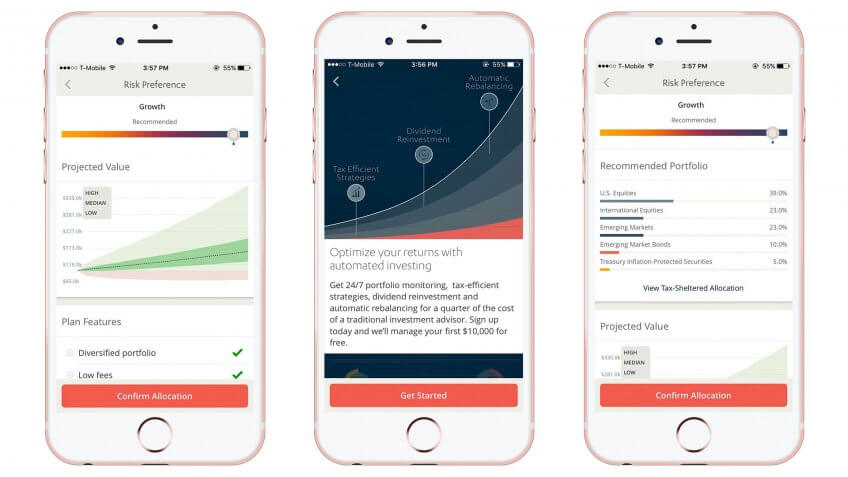 1. SigFig
SigFig is an investment portal that offers customized portfolios. If you choose to let the managers at SigFig run your investments for you, they'll allocate and manage your money for 0.25 percent annually — and that includes access to an investment adviser. If you invest between $2,000 and $10,000, SigFig will design a portfolio for you for free.
Known as a robo-advisor, SigFig makes the process of investing money simple and straightforward. Enter your age, how long you plan to invest, income information and risk tolerance, and SigFig will suggest an appropriate portfolio for you.
Even if you don't invest with SigFig, you can use the app to track your portfolios. Whether you're creating a sample portfolio to get the feel for investing or actually have stocks with another company, SigFig allows access to its portfolio tracker to help monitor your investments. You can also access external portfolio analysis, reporting dashboards and a live sync of your investment accounts, making SigFig one of the best investing apps for beginners.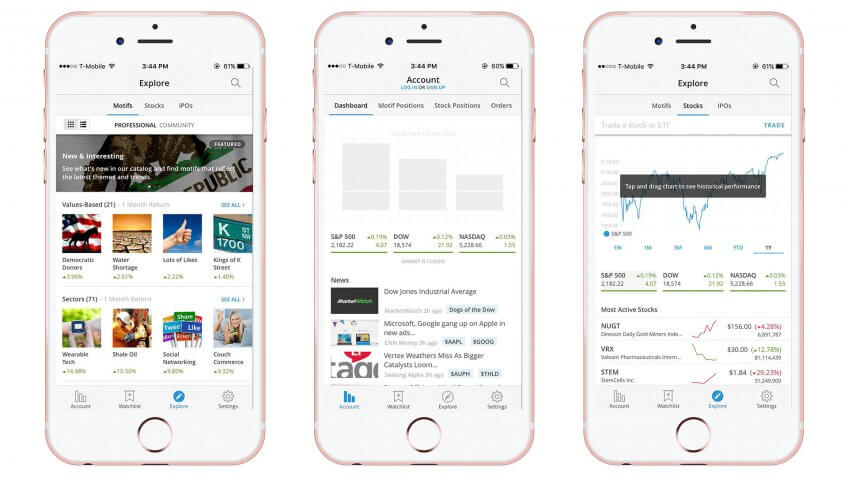 2. Motif
Motif is a unique money manager that invests thematically using "motifs." Each motif represents a particular investment concept and includes up to 30 stocks or exchange-traded funds. Unlike other apps, Motif allows you to buy all the stocks or ETFs in a single motif for just $9.95. If you want to trade on an individual basis, each stock or ETF transaction will cost you $4.95.
Motif offers over 150 professionally created motifs, but you can also create your own or invest in the 180,000-plus motifs that have been created by other investors. Motif can be a good app for first-time investors because it allows you to choose a multi-investment, thematic portfolio, such as "Connected Cars" or "All American."
Motif also offers an investment option known as the "Impact Portfolio." As with other robo-advisors, this option allocates your money based on your age, income, time horizon and risk tolerance, but with a twist — you can choose what to invest in based on your personal values, such as fair labor or a sustainable planet.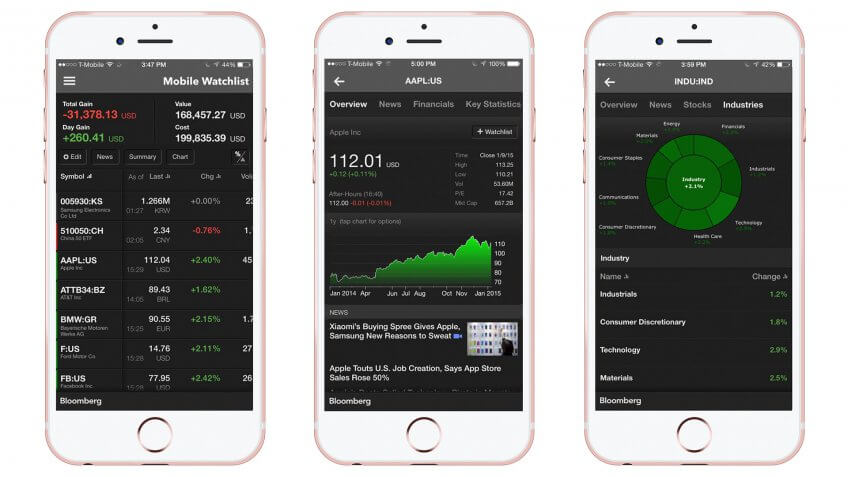 3. Bloomberg
The Bloomberg app is a powerful source of information from one of the most respected names in financial reporting. Although you can't invest using the app, it provides a lot of information that a first-timer can use to get started.
Bloomberg actually provides a number of apps for investors, ranging from the standard Bloomberg app to Bloomberg Professional, Bloomberg Radio+, Bloomberg TV+, Bloomberg Businessweek+ and Bloomberg Markets+. These apps provide varying approaches to global news as well as current news on the markets and finance.
The standard Bloomberg app allows customization and is free to use, making it particularly suited for first-time investors. If you grow as an investor and need more features, you could migrate to Bloomberg Professional or one of the other apps.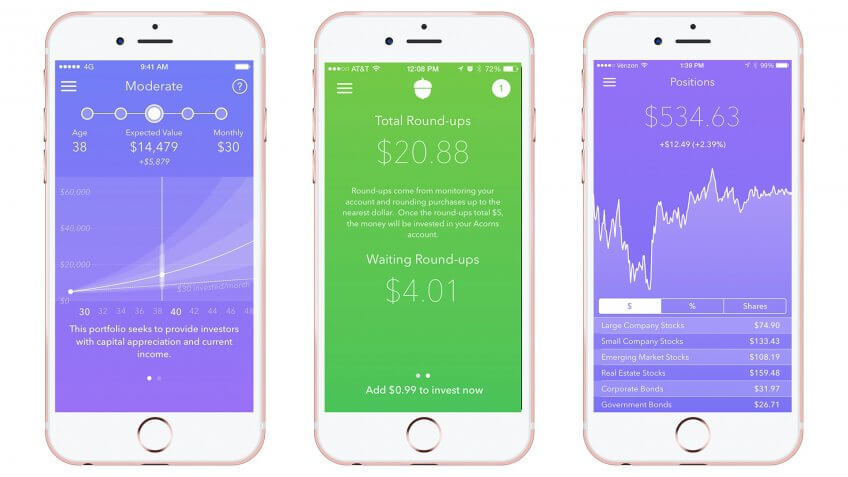 4. Acorns
Acorns is a robo-advisor that offers micro-investing. Rather than commit large sums of money to an investment program, the Acorns app gathers up your loose change for you and puts it in an investment account.
The Acorns investment process is simple: Every time you make a purchase, the price is rounded up to the nearest dollar amount, and the difference is put into your Acorns account and invested. For example, if you buy a cup of coffee for $2.64, Acorns will round that purchase up to $3.00 and invest the additional $0.36. If you prefer, you can set up automatic investments from your checking account or make additional contributions to your account at any time.
The Acorns investment platform is more affordable than several other apps. You'll pay $1 month if your investments are under $5,000, with annual fees rising to 0.25 percent for accounts over $5,000. Acorns is free for college students with a valid .edu email address for four years.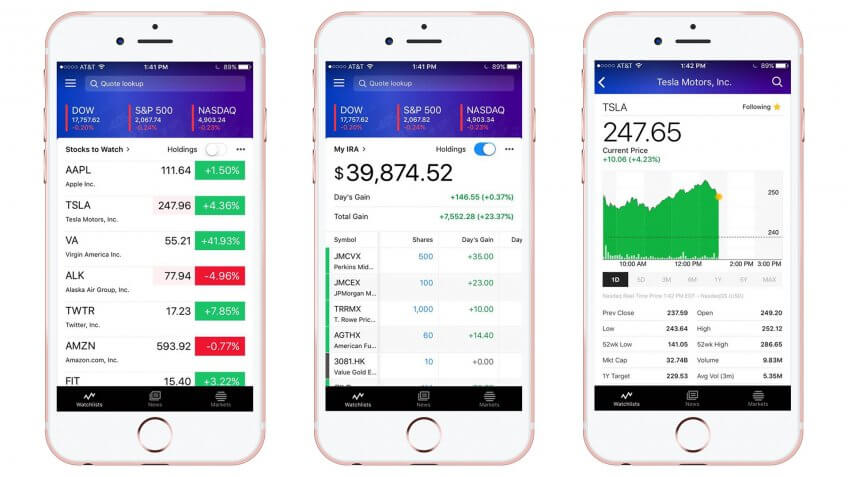 5. YahooFinance
The Yahoo Finance app takes the formula behind the general Yahoo news app and applies it directly to financial information. Although it's not an investment platform, it provides links to numerous articles and analyses that can help you make investment decisions, covering everything from personal finance to technology news.
The app also allows you to link your brokerage accounts so you can monitor your portfolio in the app, and you'll see news stories that are relevant to your holdings.
Yahoo Finance and all its amenities are free to use. If you're already used to the standard Yahoo News site, the Yahoo Finance app can provide a level of familiarity that can be comforting to a first-time investor.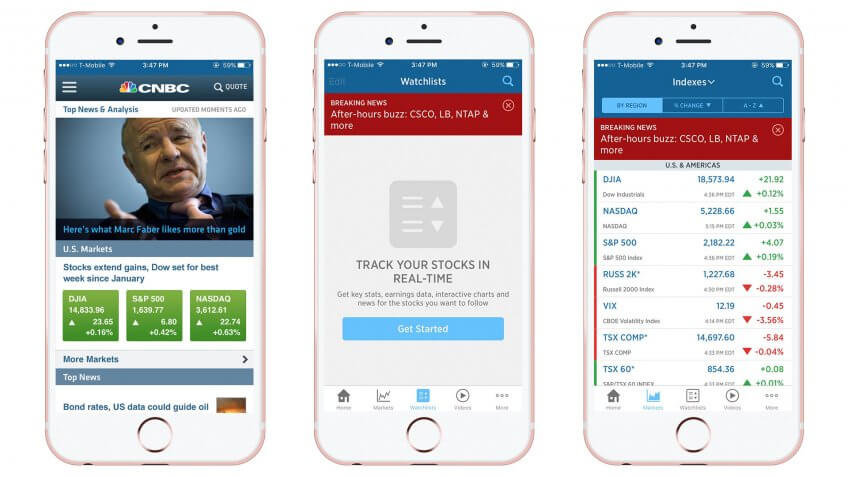 6. CNBC
The CNBC app offers direct access to the popular news network. Like other financial news outlets, CNBC provides daily financial news coverage and real-time stock quotes. It also provides access to relevant videos, podcasts and full-length CNBC programs that you can't find on other apps.
Because CNBC is a globally televised news organization, the CNBC app offers clips of broadcasts from regions such as the Asia-Pacific and Europe, giving it an edge over some competitors. For more advanced information, you can subscribe to the "Pro" version of the app, which provides exclusive investment tips and analysis, emails, alerts, ad-free video clips, and live TV from around the world.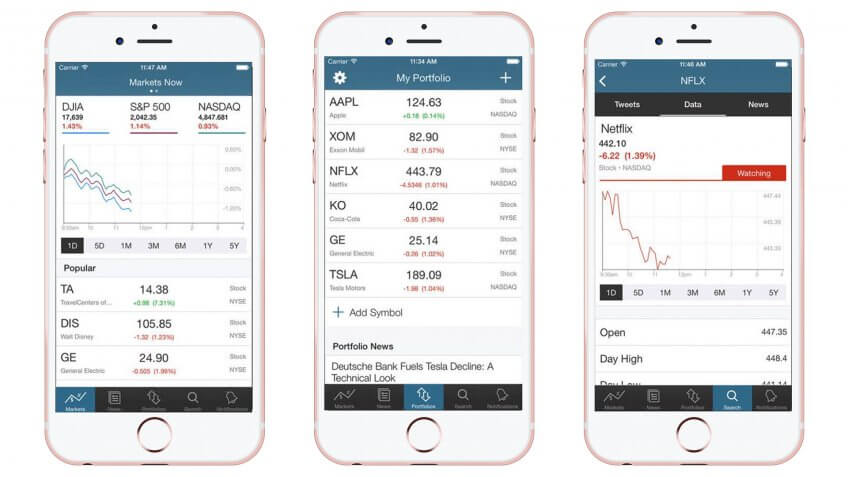 7. Benzinga
The Benzinga app provides market news, similar to Yahoo Finance, CNBC and Bloomberg. Benzinga goes one step further by providing actionable market intelligence on a daily basis. While still providing broad-based market news, Benzinga features current market tweets and shares articles and news on social media. Benzinga also provides information on financial technology news.
As a first-time investor, it can be a good to have an app such as Benzinga that provides free, nearly real-time market data and information that might not be featured on other news sites.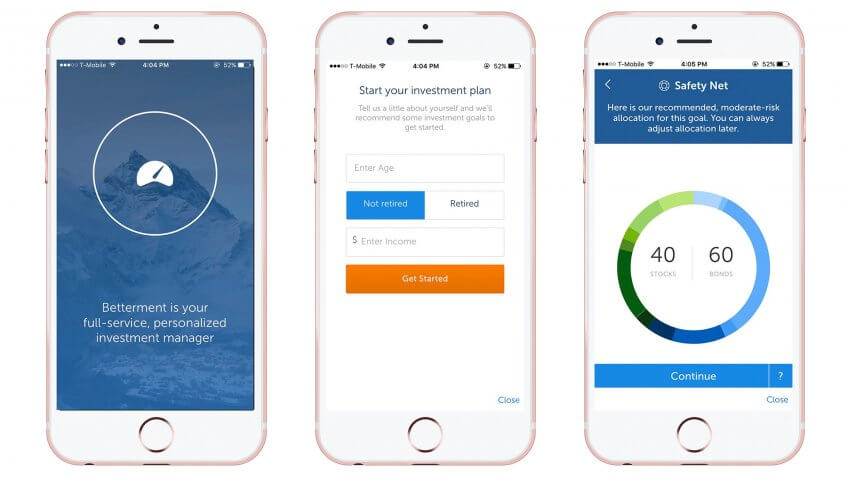 8. Betterment
Betterment is one of the best robo-advisors on the market, using algorithms to generate recommendations for where to invest money. Betterment uses Nobel Prize-winning research to construct portfolios that try to optimize investor return while balancing out risk. The resultant diversified portfolio can consist of up to six stock ETFs and six bond ETFs.
Although the initial process is the same as with other robo-advisors — enter your age, income and other financial information to generate a portfolio — Betterment offers three types of plans:
Digital: costs 0.25 percent per year with no minimum investment
Plus: annual phone consultation and ongoing monitoring from a team of financial professionals, including certified financial planners, for 0.40 percent per year, with an account minimum of $100,000
Premium: unlimited access to Betterment's financial advisors for 0.50 percent per year, with a $250,000 account minimum
First-time investors can get started easily with the Digital plan and later transition to the other accounts as they become more experienced or decide to increase their investments.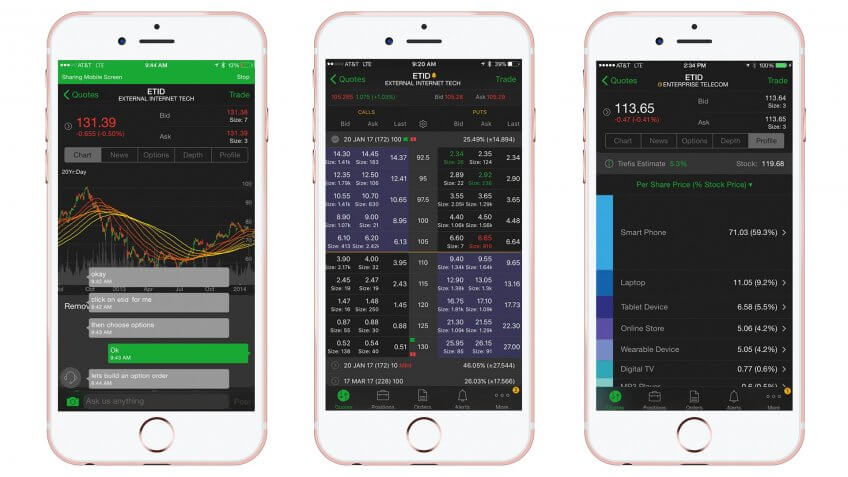 9. TD-Ameritrade
TD Ameritrade offers beginner investors access to a variety of investable assets. Unlike robo-advisors, which might limit you to 12 fund choices, with the TD Ameritrade app you can buy everything from stocks and bonds to futures and Forex assets. It can be a good fit for anyone who wants to create a diversified portfolio.
Getting started on TD Ameritrade is easy, especially because it has no account minimum. To buy stocks, you pay $6.95 per online trade. If you're mainly interested in ETFs and mutual funds, TD Ameritrade can be one of the best deals. You can invest in over 100 ETFs for no commission, and you also get access to thousands of mutual funds with no transaction fees or commissions.
Once you become a more advanced investor, you can graduate to TD Ameritrade's more sophisticated investment platforms, such as thinkorswim and TradeArchitect.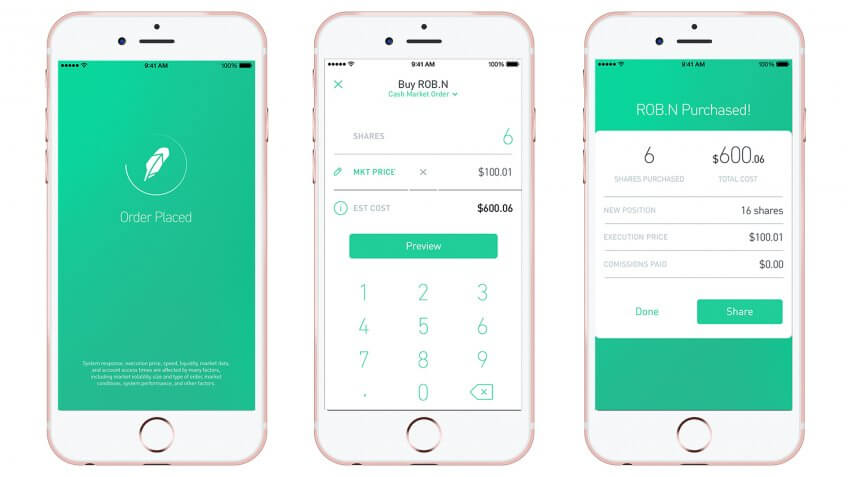 10. Robinhood
Robinhood is exclusively an app. For first-time investors seeking free trading and easy-to-use, mobile-friendly apps, Robinhood might be the best stock trading app for beginners.
Once you open an account on the Robinhood app, you don't have to worry about paying a commission for a stock trade, having an account minimum balance or paying account maintenance fees. Mandatory trade-related fees imposed by regulatory agencies like FINRA and the SEC, however, still apply.
You can trade stocks and ETFs right on the app in real time, but it does not yet offer the ability to trade mutual funds, bonds or options. Additionally, the app is lacking in terms of in-depth research, analysis and financial information that other apps offer. You can overcome this limitation by pairing the Robinhood app with other apps that provide financial information, such as a news network app.